Ladies and Gentlemen, the Rolling Stones
Any pop music fan past infancy knows the Rolling Stones, a band so foundational that America's best-known rock music magazine more or less appropriated its name.

But time has trimmed the great band's recorded legacy. Thirty or forty years ago, fans and critics regarded the Stones first and foremost as a British Invasion band, hot on the heels of the Beatles. Their biggest song was "Satisfaction," the monster hit that defined their first iteration as a blistering blues-rock band, with the devastating one-two guitar punch of Keith Richards, the world's best white Chuck Berry disciple, and Brian Jones, Britain's answer to slide-master Elmore James. Back then, critics generally regarded Beggars Banquet (from 1968) as the end of their greatest era, rather than the beginning.

Nowadays, many Stones fans content themselves with a collection that starts with Beggars Banquet and ends three records later, with the double-disc sleeper masterpiece Exile on Main Street. Those records bookend an era now generally defined as the Stones' finest, rounded out with Let it Bleed and Sticky Fingers. Toss in Some Girls, the band's autumnal comeback, or any respectable singles collection, and you've got the Top 5 on your typical roundup of Best Rolling Stones Albums. (Here's another. And another.)

But there's a lot to be said for the nine studio albums (give or take) that preceded Beggars Banquet. Those records, and the attendant singles, contain the majority of the songs for which the Stones will be remembered, the ones most likely to be shot into space or preserved by the Smithsonian, from "It's All Over Now" to "Time Is on My Side" to "The Last Time" to "Satisfaction" to "Paint It Black" to "Ruby Tuesday" to "Jumpin' Jack Flash."

AllMusic is one of the few contemporary music sites that champion those early sides. AllMusic critics award five stars, their rare "masterpiece" rating, to four Stones LPs released between 1964 and 1967, including titles, such as The Rolling Stones, Now!, that won't register with most millennials. At moments, and throughout the sublime Aftermath and Between the Buttons, the Stones don't sound like a bunch of white guys from Britain paying homage to Chess Studio or Muscle Shoals: They sound like themselves, and no one else.

Here are four of the best LPs from those years, and one underrated title from the end of the band's last golden era: five overlooked Stones classics.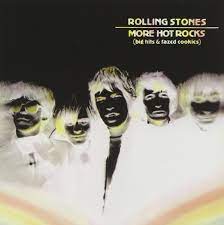 Read the full article here.