The Ultimate B.B. King Playlist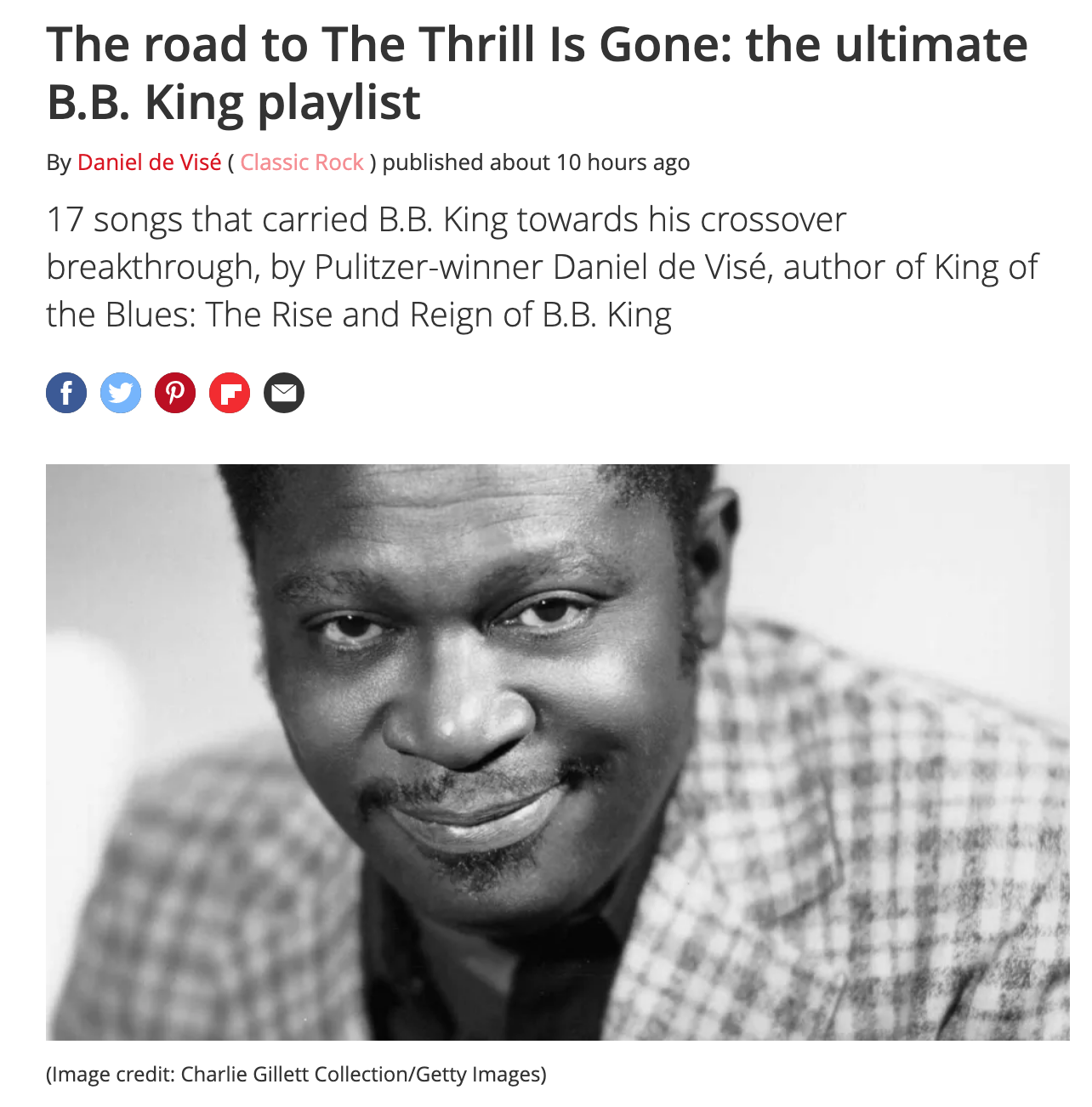 B.B. King released more than two hundred singles and fifty albums in a six-decade recording career. He is a towering figure in popular music. Yet, many casual fans can identify only one B.B. King song, The Thrill Is Gone, a 1969 release that reached #15 on the Billboard Hot 100 chart.
I listened to nearly all of those singles while writing King of the Blues, the first cradle-to-grave biography of the man Eric Clapton called "the most important artist the blues has ever produced."
B.B. King and his guitar burst onto the rhythm and blues charts in 1952 with the No. 1 single 3 O'Clock Blues. This was three years before Chuck Berry and Maybellene, a decade before The Beatles, a time when guitars and guitarists seldom cracked the charts. Ironically, even as B.B. created a new lexicon of solo guitar virtuosity in the 1950s, the R&B world mostly ignored Lucille and recognized him primarily as a singer. But a new generation of guitarists heard B.B.'s singles and spread his sound. By the close of the 1960s, seemingly every lead guitarist in pop wanted to play like B.B. King.
This playlist traces the evolution of B.B. King as a singles artist, from his first – and occasionally embarrassing – forays into Memphis recording studios in 1949 through his crossover breakthrough, twenty years later, with The Thrill Is Gone. I've ordered the songs as they appear in King of the Blues, so the playlist can be used, in effect, as a soundtrack to the book.

Read the playlist on the Louder Sound/Classic Rock website, here.