The Comeback: Greg LeMond, the True King of American Cycling, and a Legendary Tour de France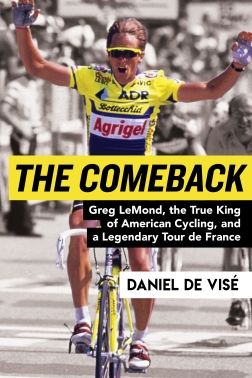 Published by Atlantic Monthly Press
Read the book that inspired Congress to award Greg LeMond its highest civilian honor, the Congressional Gold Medal!
The Comeback chronicles the life of one of America's greatest athletes, from his roots in the windswept hills of Nevada's Washoe Valley to the heights of his global fame at the Tour de France. With a swift narrative drive and fierce attention to detail, The Comeback reveals the dramatic, ultra-competitive inner world of a sport rarely glimpsed up close, and builds a compelling case for Greg LeMond as its great American hero.
"A blend of chaos, kindness and cruelty typifies the scenes that journalist de Visé brings to life. . . . As an author in quest of his protagonist's motivation, [de Visé] subjects it to extreme torque." -- The Washington Post
"[The Comeback] celebrates the American bicycle racer whose name we should know." -- The Seattle Times
"De Visé offers a thrilling read and exciting history for cycling and noncycling fans alike." -- Publishers Weekly
10 Cycling Books for the Holiday Season -- CyclingTips
"The Comeback is an eye-popping ride, sweeping the reader through the extreme eccentricities of endurance cycling." -- Diana Nyad, legendary endurance swimmer
"De Visé's account stands out owing to its depth of coverage, captivating prose, and variety of historical and contemporary news sources. An impressive read for anyone interested in cycling." -- Library Journal (starred review)
"This is a must-read if you believe in miracles." -- John Feinstein, bestselling author of Season on the Brink and The First Major
"Other books have profiled LeMond's achievements, but Comeback offers more depth. . . . De Visé's exploration of Kathy LeMond's role in her husband's success is worth the purchase price." -- Minneapolis Star Tribune
"[A] scintillating account of what is arguably the greatest comeback in the history of sports, artfully recounted by one of the most gifted writers of our time." -- Michael Shermer, publisher of Skeptic magazine, bestselling author and co-founder of the Race Across America
"[Laurent] Fignon's history held me spellbound. I also enjoyed new details about Mr. LeMond's life." -- Lennard Zinn, author of Zinn & the Art of Road Bike Maintenance, in The Wall Street Journal
"Greg LeMond is an American sporting hero whose story would surely be rejected by Hollywood as too fanciful. Remarkably, it's all true, and The Comeback is the first book to document the full LeMond story in all its astonishing, scarcely credible detail." -- Richard Moore, author of Slaying the Badger
"Once in a blue moon a sports book comes along appealing to a such a broad audience that it becomes a perennial favorite of neighborhood reading groups--Boys in the Boat and Seabiscuit being prime examples. Now make way for The Comeback by Daniel de Visé, a superbly well-crafted narrative." -- Paul Dickson, author of Bill Veeck and Leo Durocher
28 Books Every Cyclist Should Have on Their Shelves -- road.cc
"A 371-page tour de force through LeMond's entire cycling career, and its at times difficult aftermath." -- The Irish Times
"The Comeback is a story that every cycling fan ought to hear and reconsider, even those of us who thought we knew [LeMond] best from back in the day." -- Podium Cafe
"De Visé provides a fuller, more complex portrait of LeMond than anything previously published. . . . [He] writes with perfect pitch." -- BikeRaceInfo
"Daniel de Visé has written a gripping account of what is widely considered to be the greatest finish in Tour de France history." ​-- Bob Bowen, president of the U.S. Bicycling Hall of Fame
"It's a pleasure to ride in the peloton alongside LeMond, who emerges from this account as America's once-and-future cycling great." -- Kirkus Reviews
"Even if you're familiar with this story, de Visé's account is gripping. . . . He does an excellent job of making all the material flow with his compelling prose." -- Canadian Cycling Magazine
​"In The Comeback, de Visé portrays the complex personalities of LeMond and Fignon in a narrative freighted with nuanced analyses, thorough research, and a narrative that rocks." -- Peter Joffre Nye, cycling historian, author of Hearts of Lions
"You couldn't ask for much more from a biography: a worthy subject and a great story." -- Road.cc
"Dan has written a narrative that everyone – whether you love and follow our sport or not – will find compelling." -- Diane Jenks, The Outspoken Cyclist
"Even if you're familiar with this story, de Visé's account is gripping. . . . He does an excellent job of making all the material flow with his compelling prose." -- Canadian Cycling Magazine
"For those who just want the BLUF (bottom line up front): The Comeback is a great book." -- Pez Cycling News
Best Cycling Books on the Market -- FloBikes
Now available on Amazon, Amazon UK, IndieBound, and Barnes & Noble, and from your favorite local bookstore!
432 pages | 978-0802127945 | June 5, 2018