King of the Blues: The Rise and Reign of B.B. King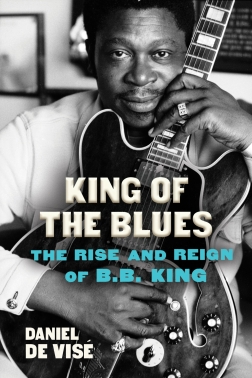 Published by Atlantic Monthly Press
Longlisted for the PEN America Award for Biography.

A Kirkus Best Nonfiction Book of the Year.

A Library Journal Best Book 2021.

A Book Marks Best Reviewed Book.

Living Blues Award: Best Blues Book of 2021.

A Booklist Top 10 Art Book of 2022.

An Amazon Editors' Pick.

"No one worked harder than B.B. No one inspired more up-and-coming artists. No one did more to spread the gospel of the blues." —President Barack Obama
"He is without a doubt the most important artist the blues has ever produced." —Eric Clapton
Riley "Blues Boy" King (1925-2015) was born into deep poverty in Jim Crow Mississippi. Wrenched away from his sharecropper father, B.B. lost his mother at age ten, leaving him more or less alone. Music became his emancipation from exhausting toil in the fields. Inspired by a local minister's guitar and by the records of Blind Lemon Jefferson and T-Bone Walker, encouraged by his cousin, the established blues man Bukka White, B.B. taught his guitar to sing in the unique solo style that became his trademark. In turn, generations of artists claimed him as inspiration, from Jimi Hendrix and Eric Clapton to Carlos Santana and the Edge. King of the Blues presents the vibrant life and times of a trailblazing giant. Witness to dark prejudice and lynching in his youth, B.B. performed incessantly (more than 15,000 concerts in 90 countries over nearly 60 years)—in some real way his means of escaping his past. Several of his concerts, including his landmark gig at Chicago's Cook County Jail, endure in legend to this day. His career roller-coasted between adulation and relegation, but he always rose back up. At the same time, his story reveals the many ways record companies took advantage of artists, especially those of color. Daniel de Visé has interviewed almost every surviving member of B.B. King's inner circle—family, band members, retainers, managers, and more—and their voices and memories enrich and enliven the life of this Mississippi blues titan.

Praise for King of the Blues:

"As someone who has written about Black music history and repeatedly bumped into B.B., I understand the challenge of an accurate chronology of King's life and development as a unique guitar stylist and singular vocalist, and appreciate seeing the work done so well. . . . There's tons of great stuff here that TMZ won't pick up but that readers who crave a great story of American culture will devour." --Preston Lauterbach, The Wall Street Journal

"De Visé sets up King's life like a classic composition: He establishes themes and returns to them while pushing the story from its intro to its coda. The book adds flesh and blood to the standard cultural codification of King as icon. It presents a career full of ambition and a life informed by longing, with triumphs and setbacks, discrimination and canonization." -- Houston Chronicle

"As blues royalty and one of the 20th century's most influential musicians, B.B. King has long deserved a well-considered biography that places his achievements in a cultural and historical context. This is it. Pulitzer Prize–winning journalist de Visé deftly interweaves tales of American history, pop culture, racial relations, music theory, and much more to fully demonstrate King's significance. . . . The thrill is here, as B.B. King finally gets his due in this first meticulous account of his historic life." -- Kirkus (starred review)

"Author and Pulitzer Prize–winning journalist de Visé has written the definitive biography of blues master Riley "B. B." King. . . . The book expertly interweaves King's music career into the U.S. social fabric, especially the civil rights movement. With this fast-moving, informative, evenhanded, and exhaustive biography, de Visé vividly captures King's life." -- Library Journal (starred review)

"Pulitzer Prize–winning journalist De Visé amply demonstrates his masterful storytelling and research skills in this definitive look at legendary blues musician B.B. King . . . An intimate portrait of a cultural luminary . . . Even readers who aren't fans of the blues will be engrossed by this nuanced look at an American icon."—Publishers Weekly (starred review)

"In this first authoritative biography, de Visé chronicles the life of the bluesman who became king. . . . A fine portrait of an iconic musician." -- Booklist (starred review)

"B.B. King was a marvelous man and an international ambassador for the blues. King of the Blues by Daniel de Visé tells the extraordinary story of his life in great detail, and a wonderful story it is. A fitting tribute to a great artist." -- John Landis, director of The Blues Brothers, Animal House, Trading Places, Michael Jackson's Thriller and many more.

"Context is everything in this fascinating and likely definitive biography of blues giant B.B. King. It is so well researched and written that at times you almost feel like a first-hand observer of King's life and the constantly expanding nation in which he came of age." -- George Varga, San Diego Union-Tribune

"[T]racks B.B. King's multifarious career with such efficiency and clarity that surely little of biographical significance remains to be said." -- Mojo

"Like hopping onboard B.B.'s tour bus for a ride straight to the heart of the blues. Told me about the B.B. I knew and a few other B.B.'s as well. I loved them all." -- Shemekia Copeland, three-time Grammy-nominated Alligator Records recording artist.

"As towering and quasi mythological a figure as King became before dying at 89 a few years ago, his past, beyond the statistics of his hits and sales and prodigious number of concerts, was largely unknown. The author of this superb biography has forever changed that, which is reason enough to read this book, but most impressively, he has made this great man's history as taut and illuminated as a novel. The characters that ride on the river of King's life are spellbinding and superbly drawn. That is rare anytime, but particularly in a biography, which the sheer weight of detail and dialogue can make leaden. But de Vise wrote a page turner, light and fast and profound. He has honored King, who would have enjoyed reading this." -- Bob Guccione Jr., founder of Spin magazine, in Wonderlust

"B.B. King is one of, if not the best of, America's treasured heroes! Mr. de Vis­é meticulously dives deep into why, what and how young Riley, who graced this planet from a world of extreme complications, was able through his talent, relentless drive and humility, to rise to the deserved title 'King of the Blues.' Get your records out and enjoy the read. I did!!!" -- Robert Cray, five-time Grammy-winning blues guitarist and singer-songwriter.

"As Pulitzer Prize–winning journalist Daniel de Visé tells it, the biography of B.B. King isn't just the story of a genre-defining musician, it's a full-blown hero's journey — the tale of one man's triumphs over every obstacle (economic, racial, societal) the world threw in his way. . . . Filled with interviews with King's relatives, band members and managers, the resulting biography feels at once intimate and encyclopedic, offering a full picture of the man behind the myth.​" -- AARP The Magazine

"Extremely thoughtful, thorough and insightful." -- David Ritz, biographical collaborator with B.B. King, Ray Charles and Aretha Franklin and biographer of Marvin Gaye.

"Fascinating and insightful." -- Guitar Player

"The name B.B. King now resonates with longevity amongst blues lovers and music enthusiasts alike. With more than six decades of noteworthy expressions of a great American art form, B.B. King's guitar playing and singing hold a strong place with an unmistakable sound of his professional and effervescent personality. Get a head start within these fine pages for an intimate trip with B.B. King's lifetime attachment to creativity. B.B. is truly King of the Blues, oh yeah!" -- Billy F. Gibbons, guitarist and singer, ZZ Top.

"Definitive. . . . Beyond the creative aspects, King of the Blues offers a deep investigation into King's personal life and history as well, and de Visé provides a wealth of new revelations." -- Bob Mehr, Memphis Commercial Appeal

"B.B. King was the stone truth, the man who took down home uptown and, yes, the undisputed king of the blues. This, his first full and authoritative biography, is both right on time and long overdue. Dan de Visé has done a solid for music lovers everywhere." -- Leonard Pitts, Jr., Pulitzer prizewinning national columnist and author.

"A comprehensive and unfiltered look at the complex musical giant . . . De Visé tells King's fascinating story with great detail and fluid prose . . . King of the Blues helps encapsulate his incredible life and his enduring legacy." -- Jackson Clarion Ledger

"Historian Daniel de Visé provides the first full and authoritative biography of this blues legend. King of the Blues provides rich insight into King's upbringing, influences, challenges and legacy." -- AllMusic, The 2021 AllMusic Gift Guide.

"B.B. King, one of the great bluesmen of all time. Can any other person hold one note on the guitar and make it say so much? Daniel de Visé's book on B.B. King is a great read." -- Joan Armatrading, three-time Grammy-nominated singer-songwriter and guitarist.

"Drawing on hundreds of interviews with companions and relatives, research from well-stocked archives and blues albums listened to for days on end, [de Visé] has written a life story that scenically reconstructs countless key moments. . . . With 'King of the Blues,' he presents a fabulous
outline of this long life. And there's no question that it could be made into a wonderful film." -- Philipp Krohn, Frankfurter Allgemeine Zeitung.

"Author Daniel de Visé does an exceptional job of capturing King's story. . . . For his part, de Visé details that rise to fame in extraordinary detail, illustrating his tale with a collection of revealing photos that help underscore that remarkable trajectory. Consider this a must read for anyone with even a passing interest in the basics of the blues." -- Lee Zimmerman, Goldmine

"We needed a 'full-length and authoritative' biography of the man, the artist, Lucille's better half, the King of the Blues. Now we have it. It's good and worthy and something more: essential." -- Chapter 16 (Nashville)

"Highly recommended." Jefferson Blues Magazine (world's oldest blues publication)

"De Visé writes beautifully. His command of narrative is compelling. The level of detail he amassed is awesome." -- Charles Sawyer, author of The Arrival of B.B. King: The Authorized Biography.

"You could search fruitlessly to find a better way to while away a few hours than to read King of the Blues while listening to some B.B. King. . . . A masterful account of a masterful musician." -- Washington Independent Review of Books

"Simply amazing from beginning to end! The details on King's elder years were eloquently told. The relationship with the adopted children, management, and those who took care of his business was daring. De Visé is indeed an incredible writer. Genius!" -- Diane Williams, author of The Life and Legacy of B.B. King: A Mississippi Blues Icon.

"The best moments of King of the Blues portray the B.B. King whose cutting lead guitar sends chills up our spines every time we hear it. De Visé gives us glimpses of King's genius and the reasons so many guitarists look up to him." -- No Depression

"I am forever grateful for King of the Blues. My only complaint was that it ended. [De Visé] created the deepest possible link to Mr. King, one that I savored as I read each page of his beautiful book." -- William R. Ferris, former chair of the National Endowment for the Humanities, co-founder of the Center for Southern Folklore.

"In King of the Blues, Daniel de Visé gives us a comprehensive and incisive portrait of the blues legend, whose influence can be felt across nearly every genre of American music." -- Eric Liebentrau, managing editor, Kirkus Reviews.

"What de Visé provides is insight into King's character. . . . The thoughtful and analytical portions of the narrative are counterbalanced with engaging tales from King's circuitous route to success." -- Houston Press

"King of the Blues is the first full and authoritative biography of King, and it accomplishes what all good music books should: It drives readers to revisit King's music and savor it again." -- BookPage

"This stands head and shoulders above the majority of musical biographies in terms of its research and its analysis; it's certainly the best on King's life and career to date. It is well written, musically articulate and makes for absorbing reading." -- Jazz Journal (U.K.)

"This work is exactly what you would expect from a first-rate biography. Throughout, de Visé does an excellent job of telling B.B. King's story while grounding it in the people and events that impacted the tale at key junctures. Readers will find it hard to put the book down, a true testimonial to de Visé's talent for weaving all of the elements into a compelling narrative." -- Blues Blast Magazine

"I enjoyed the book immensely, found lots of interesting new material about the blues musician and especially found the man's daunting—over a hundred to date—album discography informative. I would definitely recommend this book to B.B. King and blues fans as well as anyone who studies or just has passing interest in the modern evolution of Black musical culture." -- OffBeat Magazine

"[T]he most comprehensive, entertaining, and well-written of all the biographies about the legend . . . Written with deep appreciation and respect for one of the Delta's greatest men by a talented storyteller." -- Delta Magazine

"King lived a big life, and de Visé captures it vividly in his fine biography. . . . Casting King's story as part of the Great Migration, de Visé has written a powerful work of social history entwined with the story of how his unique blues style achieved international fame." -- The National Book Review

"De Visé interviewed surviving members of King's inner circle, and their voices and memories enrich and enliven the life of this Mississippi blues titan." -- Mississippi Magazine

"[De Visé] has an eye for a good story, tells a tale well, and likes a lively quote. . . . It's clear that he has done his investigative legwork, both in revisiting the vast range of printed and archival sources and carrying out his own interviews, in person and by correspondence. King's early days require a bit of care and caution for any writer, and it's encouraging that this one carefully unpicks seemingly contradictory accounts [and] pulls together as much documented evidence as we're likely to find at this stage." -- Blues & Rhythm (U.K.)

"Pulitzer Prize-winning journalist de Visé's biography of American music icon B.B. King is a masterful piece of work. It's hugely detailed, yet always engaging – in fact, it's something of a page turner." -- Gary Burnett, Down at the Crossroads (Ireland)

"Complete with a discography and a list of musicians who accompanied [King] on stage and on disc, this extremely thorough book will delight all fans." SoulBag (France)

"A very fine biography, full of great stories . . . all written with love and respect." -- Blues in Britain

"[A]dds valuable new information to the King narrative. . . De Visé has done extensive interviews with surviving family members, band members, studio session musicians, and business and personal associates to augment the body of information that exists about King. It's material that future writers and researchers will consistently use." -- Living Blues

"There's a lot to admire about this book . . . and if King of the Blues is your first B.B. book purchase, you'll be getting a fully rounded look at the life of a true American legend." -- Now Dig This (U.K.)

"Daniel de Visé paints his portrait of King with a combination of broad contextual strokes and fine factual touches. . . . King of the Blues is the first national press narrative to appear after his death, holding the potential that perhaps the padlocks of discretion have been broken." -- ARSC Journal

"King of the Blues is a detail-rich biography; de Visé leaves no stone unturned as he gives readers a full account of King's life, both the good and the bad. He also attempts to straighten out the many different accounts of certain events and confirm what is factually accurate." -- The Itawamba County Times

"De Visé really did his research for the detailed and fascinating biography. I've loved B.B. King ever since I first heard his music, but this biography makes me appreciate him even more. This is a must-read for any music fan." -- Karen Hayes, co-founder, Parnassus Books, Nashville

"A no-brainer for any music fan, whether you're a seasoned B.B. King listener or someone who has never heard him play a single lick." -- Loyalty Bookstores, Maryland

"This is a definitive biography of the life of B.B. King, the iconic blues superstar, but also an examination of the progress of civil rights in America, as both of those stories are undeniably intertwined." -- Portobello Bookshop, Edinburgh, Our Bookseller Favourites of 2021.

"From impoverished sharecropper to global music ambassador, B.B. King's story is nothing short of legendary. But this is also a story of the Black experience in America, of the Great Migration, and of Jim Crow. . . . Telling this story is quite an undertaking, and de Vise accomplishes it with a wit and charm to parallel King's own." -- Bookshop Santa Cruz, Great Books for Book Groups.

"Part biography, part tribute, and part music discussion, King of the Blues is a fascinating deep dive into an extraordinary life." -- Register-Herald, West Virginia

"[C]ould prove to be the most definitive King biography of the last few decades." -- Greenwood Commonwealth, Mississippi

"The book's an enjoyable read, with plenty of description and background on the blues scene. The author interviewed almost every surviving member of B.B.'s inner circle -- family, sidemen, managers -- and their voices help bring the story to life." -- Vintage Guitar

Amazon Editor's Pick: Best History.

Publishers Weekly Pick: Book of the Week.

Literary Hub Pick: Best Reviewed Books of the Week.

The Wall Street Journal Pick: The Best Reviews of October.

Kirkus Pick: 4 New Nonfiction Books for Music Lovers.

The Week Pick: The Book List.

No Depression Pick: Fall Music Books to Look Forward To.

The Irish Independent Pick: Our Bumper Crop of Best Books for Autumn.

San Diego Union-Tribune Pick: 2021 Holiday Gift Guide.

Harvard Bookstore Pick: Holiday Hundred.

The National Book Review Pick: 5 Hot Books.
496 pages | 978-0802158055 | October 5, 2021